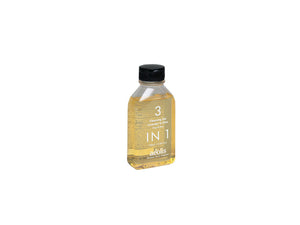 Aeolis
3in 1 Cleansing Gel - Lavender & Olive
Regular price
€9,90
€0,00
Unit price
per
Tax included.
Shipping
calculated at checkout.
 Gel for cleansing the face and eye area. Cleansing - Hydration - Rejuvenation.
Gentle composition of essential oils with organic extracts and vitamins to remove dirt, makeup and oil from the face and eye area. Moisturizes the skin and renews the mood.
Essential oils from the distillation of lavender flowers and fresh rose flowers with organic chamomile extract, organic olive oil and vitamins A, E & F turn the daily cleansing routine into a small ritual of aromatherapy. To avoid the use of chemical ingredients, the composition does not contain chemical aroma, but is naturally flavored by lavender essential oil which is used in aromatherapy as an anxiolytic and tonic, rejuvenates and promotes well-being.
INGREDIENTS: Lavender Essential Oil cleanses and moisturizes the skin without clogging the pores. Protects against irritation and has significant anti-inflammatory and antimicrobial action. It is often used in aromatherapy as it relaxes, reduces stress, rejuvenates and stimulates the sense of well-being.
Organic Chamomile Flower Extract (Chamomilla Recutita) has significant antiseptic and anti-inflammatory action, provides anti-inflammatory protection and soothes irritations. It is rich in flavonoids and polyphenols that fight free radicals, reduce fine lines and slow down the aging process.
Organic Olive Oil deeply moisturizes, softens and restores shine and velvety texture. It has a strong antioxidant effect, fights fine lines and wrinkles and delays the aging process. Provides anti-inflammatory protection and gives radiance and freshness to the skin.
Fresh Rose Oil (Rosa Damascena) with flower water reduces the signs of fatigue, stimulates and gives a noticeable brightness and freshness to the skin. They protect cells from stressors and help normalize and restore healthy cellular metabolism. In the eye area, they reduce dark circles and give a relaxed look.
Vitamin A helps restore and tone damaged skin. It enhances the metabolism of cells and normalizes the process of keratinization of the outer layers. It strengthens the skin and improves its function as a natural membrane to protect against external irritations.
Vitamin E protects against free radicals and premature aging and fights fine lines and fine lines. Enhances the skin's hydrating ability and has anti-inflammatory action.
Vitamin F (ALA & LA fatty acids) is a natural moisturizing agent with anti-inflammatory action that protects and soothes irritations. Stimulates healthy cellular metabolism and improves the function of the skin as a natural protective membrane.
Plant Glycerin soothes irritations and provides significant protection against exogenous factors. Maintains moisture levels at desired levels and offers a lasting feeling of freshness.
Apply a sufficient amount on a wet face and in the eye area with the eyes closed. Gently massage and rinse with lukewarm water.
DERMATOLOGICALLY TESTED / for all skin types
100 ml 
---
Share this Product
---