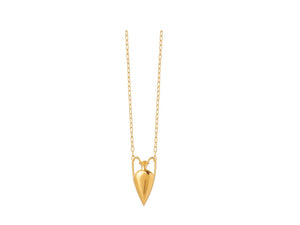 Barbora
The 'Forbidden Amphora'
Regular price
€112,00
€0,00
Unit price
per
Tax included.
Shipping
calculated at checkout.
Eros and Psyche collection is based on Greek Mythology describing the love story between gods and immortals.  
The 'Forbidden Amphora' necklace with its heart shape is designed as a reminder of the last of the ordeals that goddess Aphrodite was inflincting on Psyche – Psyche had to bring back an amphora from the Underworld to Olympus, strictly forbidden to be opened. But Psyche's curiosity got the better and no sooner had breathed in the terrible fumes that made her falling into a deathly sleep. – It sybolizes also the eternal connection of  the two young lovers as Eros, seeing Psyche lying motionless, rushed to her and touched her with the tip of his arrow to make sure she was not dead. It is told that this is a great emotional moment when Eros awaked the lifeless Psyche with a kiss.
24k goldplated silver 925 or silver 925
Pendant Length: 3 cm
Pendant Width: 1,4  cm
Types of chain: Small oval
Total Chain Length: 65cm
---
Share this Product
---